Program Curriculum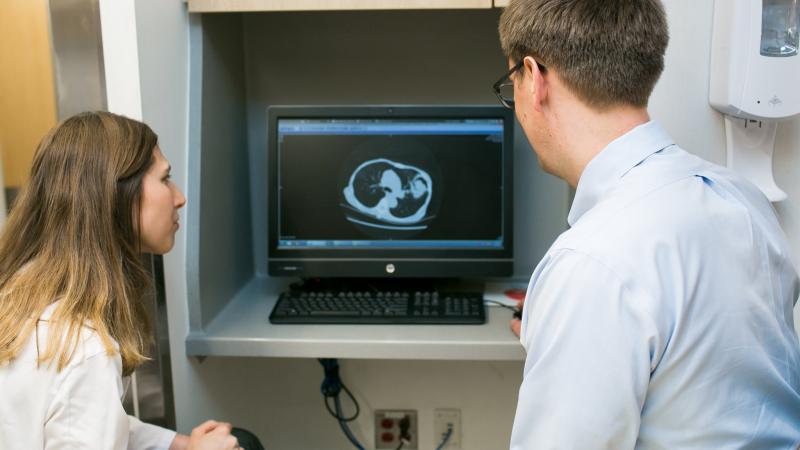 The primary goal of our program is to train infectious disease specialists and academic physician-scientists. Our fellows are trained at New York–Presbyterian Hospital (NYP) and Columbia University Irving Medical Center (CUIMC), located in upper Manhattan. The medical center has 700 inpatient beds and includes an active 300-bed medical service, a new Heart Center, and several medical and subspecialty medical and surgical intensive care units; a highly respected surgical service with a full range of subspecialties; and dermatological, obstetrical/gynecological, and psychiatric services. All services consult the General ID Consult Service on a regular basis, providing fellows with a broad range of clinical exposures.
A busy ID Transplant Consult service provides fellows with experience with both solid-, organ-, and hematologic-transplant recipients, and enables them to become familiar with the basic immunologic principles specific to each organ transplant which relate to infectious disease risk or syndromes which can mimic infections. The Neurological and Eye Institutes provide further specialized training opportunities.
Eight adult intensive-care units provide fellows with a variety of exposures to infectious disease issues in the critical-care setting. Interactions with the residents, attending physicians, and medical students throughout the medical center enrich the fellows' experience. In addition to the superb inpatient facilities at the medical center, a large outpatient clinical service accommodates more than 850,000 outpatient visits per year.
Research opportunities, both basic and clinical, are plentiful. The division maintains close ties with the Mailman School of Public Health, providing fellows with the opportunity to pursue training in the public health aspects of infectious diseases. Noteworthy among the many facilities at the medical center are the Augustus C. Long Health Sciences Library, one of the largest medical collections in the world, and the Irving Institute for Clinical and Translational Research, where active clinical research is conducted in a setting dedicated to patient care.
First-Year Curriculum
The first year of fellowship is dedicated to clinical infectious disease training. For eight months of the first year, fellows share primary responsibility for the division's inpatient consultation service. In a setting supervised by an attending physician, fellows gain direct practical experience and see an impressive breadth of infectious diseases. Consultation rounds are made daily and each fellow sees an average of 300 new patients each year.

In addition to the consult service, fellows engage in the following activities:
Four weeks of elective, an opportunity to work under the guidance of mentor(s) on long-range projects and planning for post-clinical year(s) of fellowship.
Four weeks on the Transplant ID Service to become familiar and gain experience with diagnosis, treatment and prevention of infections that occur in in patients with organ transplants including heart, lung, kidney, liver, bone marrow – stem cell.
Two weeks of dedicated Clinical Microbiology Laboratory  and Infection Control and Hospital Epidemiology

The goal of the Clinical Microbiology Laboratory experience is to become familiar with microorganisms associated with general Infectious Diseases seen on the Consultation Service, on the Transplant Service, on the Sexually Transmitted Disease rotation, on the inpatient HIV Service and in the Clinic - including their nomenclature, virulence factors and diagnostic methods by which they can be detected, isolated and identified
Infection Control and Hospital Epidemiology activities are structured to allow fellows to become knowledgeable about principles of healthcare-associated infection transmission and prevention, device-associated infections, multi-drug-resistant-organisms (MDROs), outbreak investigations, and exposure investigations.
In the outpatient setting, fellows attend a clinic session that is designed to complement the inpatient experience. A regularly scheduled half-day clinic session provides fellows with the opportunity to follow patients seen on the consultation service in an ambulatory setting once they have been discharged from the hospital. This ongoing continuity clinic also permits fellows to develop skills in the longitudinal management of HIV infection under the direct supervision of an attending physician. Fellows continue their outpatient clinic experience in the second and third years of fellowship.
Second-Year Curriculum
The second year of training is dedicated to a research project of the fellow's choosing. Experiences in basic, translational, clinical, and epidemiological research are readily available. Many of our fellows do coursework at the School of Public Health towards a formal degree in epidemiology, biostatistics or public health (i.e. MPH, MS). Fellows engage in the following clinical activities:
Weekly continuity care clinic
Clinical rotation at the Sexually Transmitted Diseases Clinic of the New York City Department of Health
Clinical rotation on the Transplant ID Service or the inpatient HIV/TB Service

The Inpatient HIV/TB Service is a unit dedicated to the management of the complications of HIV infection and the diagnosis and management of tuberculosis. Fellows will be part of a team composed of medical house staff and two attending physicians and will have the opportunity to participate in teaching during daily rounds. The objectives are to gain experience in management of inpatient HIV, to increase knowledge of HIV and the associated opportunistic infections, and to become more familiar with antiretroviral treatment – including selection of appropriate initial regimens, the indications for modification – in an inpatient setting. The fellows will also learn about and participate in coordination of continuous care between the inpatient and outpatient arenas.
Starting in the second year, fellows interested in clinical careers can focus their training on specific areas of clinical infectious diseases by pursuing one of the following clinical tracks in the second (and possibly third) year of training:
Transplant Infectious Diseases Track
HIV and Viral Hepatitis Track
Antimicrobial Stewardship and Hospital Epidemiology Track
General ID/Clinician Educator Track
Every fellow, regardless of which track they are on, will have a Scholarly Oversight Committee, which consists of mentors, co-mentors, and key faculty with the aim of overseeing every fellow's career development. Drs. Angela Gomez-Simonds and Mike Yin are chair and co-chair of the Scholarly Oversight Committee and they oversee the fellows' scholarly progress.
Third-Year Curriculum
An optional third year of training is available for fellows engaged in funded, productive research projects.
Research Curriculum and Scholarly Oversight Committee
During the second and third year of fellowship, trainees focus on developing skills in the area of basic science or clinical research investigation. Fellows choose from a wide range of mentored opportunities in basic, translational, international, clinical, and epidemiological research. Trainees have access to mentors who conduct research in the state-of-the-art research laboratory facilities at Columbia University Irving Medical Center in the Department of Medicine, Division of Infectious Diseases, Mailman School of Pubic Health, Department of Biomedical Informatics, Columbia Center for Translational Immunology (CCTI), Center for Infection and Immunity, as well the Department of Microbiology & Immunology. In addition, faculty in the Division of Infectious Disease conduct NIH-funded research and serve as research mentors and resource to the trainees. Opportunities for mentored research include:
COVID-19: D Castor,  M. Sobieszczyk, M. Yin, D. Ho, A-C. Uhlemann
HIV Prevention: D Castor,  M. Sobieszczyk, H. Tieu, MA Chiasson, L. Metsch, K. Meyers, J Zucker
HIV Treatment and Epidemiology of HIV:  M. Sobieszczyk, M. Yin, Peter Gordon, N. Shalev, S. Olender, E. Morrison, Matt Scherer
Hepatitis C and HIV: M. Scherer
Global Health Program: ICAP, Earth Institute at Columbia University, CAPRISA 
International Research: L. Kuhn, E. Abrams, J. Justman, M. Yin, M. Sobieszczyk, K. Brudney
Bacterial Pathogenesis: A. Prince, J. Dworkin, F. Lowy, A-C. Uhlemann, A. Gomez-Simmonds, T. McConville
Molecular Epidemiology and Genomics: A-C. Uhlemann, A. Gomez-Simmonds, T. McConville
Malaria: D. Fidock, J. Small-Saunders
Transplant Infectious Diseases: M. Pereira, B. Miko, J. Aaron
Hospital Epidemiology and Infection Prevention: E.Y. Furuya, W. Greendyke, L. Saiman, C. Kubin, E. Larson, P. Stone
Antimicrobial Stewardship: E. Y. Furuya, W. Greendyke, C. Kubin, M. Mehta, B. Nelson
Tuberculosis: Barun Mathema, Maxwell O'Donnell
Virology: D. Ho, S. Goff, V. Racaniello
Emerging Infections and Pathogen Discovery: I. Lipkin
Biomedical Informatics: G. Hripcsak, N. Elhadad
Depending on fellow's specific interests and their career trajectory, coursework at the School of Public Health in epidemiology, biostatistics, and bioinformatics is available to supplement research training. The following training grant opportunities are available to support mentored research during 2nd and 3rd year of fellowship