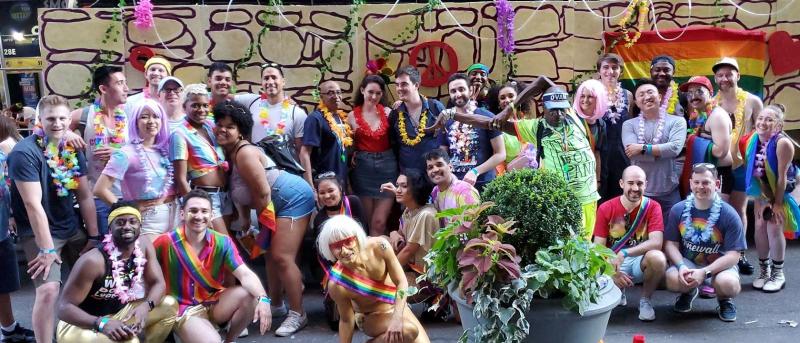 This year's World Pride NYC took place on June 30, 2019 and was one to remember! For starters, this was the first year that Columbia Research Unit designed and built a float, which turned out to look incredible. The design and construction was led by the WP Planning Team, including Henry, Jackie, Sean, Will, Eli, and Jorge and it all began
as early as September 2018. Parts of the designs dedicated to Stonewall served as a step and repeat at Queens and Brooklyn Pride. Most of it came together the day before World Pride at Harlem Pride, where a 2-tier platform was built for the DJ and decorations were placed. 
This year was also the 50th anniversary of the Stonewall riots, which occurred on June 28, 1969. In summary, the Stonewall Riots, aka Stonewall Uprising, began after NYC police raided the Stonewall Inn, a gay bar located in Greenwhich Village, NYC. The 06/28/1969 raid ignited a huge protest by bar patrons and neighborhood residents as police also responded by roughly removing the bar patrons and employees. The six days of protests and violent riots with law enforcement outside of the bar on Christopher and neighboring streets, served as a catalyst for the LGBTQA+ advocacy, activist, and civil rights movement in the US and throughout the world. 
            In addition, this was my very first year taking part in the parade and it was an experience I will never forget! It was truly inspiring being able to witness and be apart of such a historical event, surrounded by people from all different social and ethnic backgrounds as well as different sexual orientations and genders. 
Columbia Research Unit looks forward to honoring Stonewall and notable participants and activists such as Storme DeLarverie, Marsha P. Johnson, Sylvia Rivera, Thomas Lanigan-Schmidt, and Craig Rodwell again. What will their next design be?